Social distancing wasn't the only item lifted this week.
Thu, 25 Jun 2020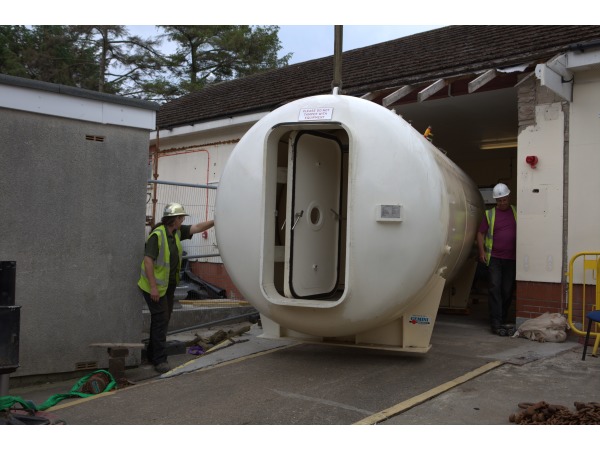 During an important week in Manx life where the government has relaxed many restrictions the old hyperbaric chambers have been removed from the peel road facility using a crane.
Thousands of patients who have used the facility across almost 4 decades will say goodbye to the decommissioned vessels which have saved many lives and improved many more.
The charity responsible for the facility HBOT IOM through its fundraising campaign has already raised a marvelous £286,000 towards the purchase of a new hyperbaric chamber along with modernising the facility. This will meet the working needs of both of the obsolete chambers in a medical setting.
Debbie Barron Secretary of the charity said "It is a poignant day today, to witness the removal of the old chambers whilst we continue our fundraising campaign for our new chamber and modernise our facility. With social distancing now being allowed it is very much hoped that our Islands population will continue to fund raise and donate in their own way for our campaign. This will enable the charity to be in a position to place the order for the new chamber which will take 6 months to manufacture, ship and install and then be able to recommence hyperbaric treatments."
See www.hbot.im or gofundme/f/hyperbaric-chamber-iom for those who may wish to call in with donations our postal address remains the same Hyperbaric Medicine Facility, Scholl Building, Peel Road, Douglas, Isle of Man. IM1 5ED.
---